Keep these hostas in your garden?
They looked fine for three years, until now. I'm sure I should just toss them as I have other healthy Gold Standards and Sea Dream isn't that hard to replace. I dug them up and put them in isolation last week. The funny coloring on both of them makes me nervous even though they're displaying different signs. I'm fairly certain Sea Dream is showing symptoms of HVX but I'm not sure what's going on with the Gold Standard. They were planted very close to each other so it's certainly possible both could possibly be infected.
Before this year all of my hostas were grown in shade, hence my screen name. When I moved my collection they had to get used to a lot more light. I convinced myself that the "color changes" on these two was the abundant sunshine they were receiving. I'm sure this sounds like I'm in complete denial but before I ditch these two I'd welcome opinions. Has anyone seen sun damage like this when moving plants from heavy shade to sun?
So...what would you do? Keep or toss one, none or both?
Top pic is GS taken in May, bottom pic is how this GS looks now.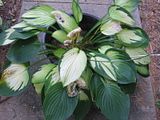 Top pic is SD in May, bottom pic how it looks now.