'Swirls' & 'Korean Snow'
Definition:
Streaking
- the act of removing one's clothes and running through a public place.
I was a child in the Fifties. We did not remove our clothing in public. Raised in a conservative home, I found even public locker rooms to be incredibly uncomfortable.
But then came the free-wheeling Sixties, and the combination of political and social counter-culture responses to the repressive cultural norms led to an explosive readjustment in public values about bodies and the exposure of same.
As opposed to nudism, a lifestyle choice usually practiced in some privacy... or flashing/self-exposure, a mentally disturbed act intended to shock or harm... streaking was meant to be fun. It was shocking, but in a playful way.
We thought we invented streaking. Many colleges have a tradition of streaking going back to the Sixties and Seventies. Even sedate Harvard has a twice-a-year Primal Scream streak. Princeton's streaking tradition, dating from 1970, was finally banned in 1999 due to safety concerns - the large numbers of observers made the activity too dangerous.
Imagine my surprise when my research turned up the first recorded case of streaking in America. From Wikipedia:
"The first recorded incident of streaking by a college student in the United States occurred in 1804 at Washington College (now Washington and Lee University), when senior George William Crump was arrested for running nude through Lexington, Virginia, where the university is located. Robert E. Lee later sanctioned streaking as a rite of passage for young Washington and Lee gentlemen. Crump was suspended for the academic session, but would later go on to become a U.S. Congressman and Ambassador to Chile."
One thing is clear from all of this. Though those of a conservative bent may disapprove of such public shenanigans, streakers are not crazy. Most streaking is performed by folks who go on to become pillars of the community.
So among humans, most streakers are stable.
Not so among hostas. (Yes... this is a post about hostas!) Most hosta streakers are unstable.
Most streaky hosta plants are really just indecisive. Like Benjamin Braddock in
The Graduate
, they haven't settled down and decided what they want to be when they grow up. Do I want to be solid-colored? Do I want to have a lighter margin... or a lighter center? They just haven't decided.
If you grow streaked babies, you will see the plants making their decision. Some of them will settle rapidly to single colors. Some will settle into a variegated pattern that may or may not be different enough from other cultivars to deserve registration. Often you will find a crown that has the whole range in it... solid, streaked, and eyes tending toward margins and other eyes tending toward centers.
Until recently, it seemed streakers were primarily the province of breeders. Regular gardeners usually didn't grow streakers. Partly this is because hostas tend to be low-upkeap plants and streakers require extra care. My Savannah Supreme and Sea Prize and Blizzard and Galaxy all require division every second or third year to remove eyes that are stabilizing. It can be more trouble than its worth for many gardeners.
And there is also the fact that some people just find them unattractive! (Not unlike humans... in fact, most human streakers are esthetically unattractive... most do not have the classical physiques of statues by Bernini or Michaelangelo... not to mention the effect of cold air on various body parts...)
But there are some streakers (hostas, I mean... back to hostas...) that seem to be quite stable and trouble-free. I've grown Kisuji for years and it has never stablized for me. More recently, a Hallson Secret Trader sent me Swirls and people say it is quite stable. I put it in a prominent place and it is getting a lot of attention this spring. I'm also including in this category one of my favorite hostas, Korean Snow. I don't know if it should be called a stable streaker, or mottled, or misted, or what... but I love it!
I don't have any fresh pictures of Kisuji, but I'll post 'Swirls' and 'Korean Snow'. By the way, have you ever noticed that some hostas tend to be square? KS consistently does this in my garden... not an evenly round clump, but distinctly squarish...
'Swirls'
Hosta Registry - not registered
MyHostas -
http://myhostas.be/db/hostas/Swirls
Hosta Library -
http://www.hostalibrary.org/s/swirls.html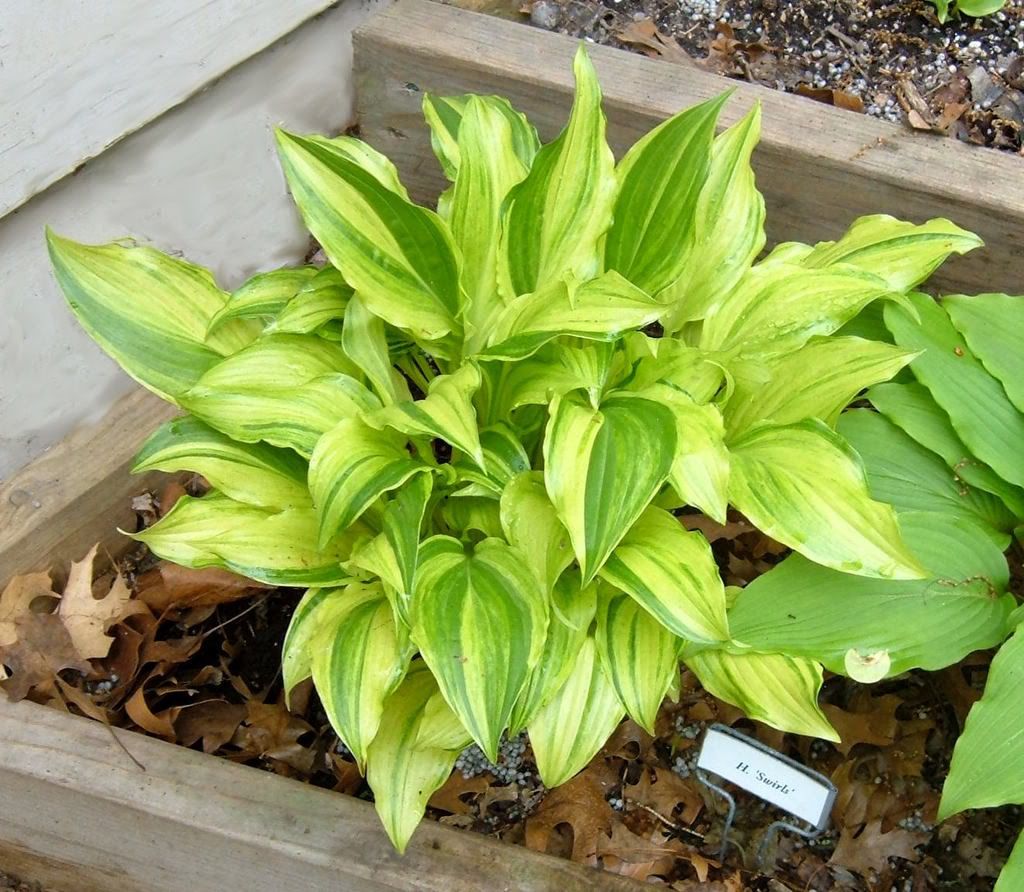 The incredible square hosta... 'Korean Snow'
Hosta Registry -
http://www.hostaregistrar.org/detail.ph ... ean%20Snow
MyHostas Database -
http://myhostas.be/db/hostas/Korean+Snow
Hosta Library -
http://www.hostalibrary.org/k/korean.html