'Sargeant Pepper'
Actually, it was June 4, 1967… a sunny Sunday in my little Lake Wobbegonish-hometown in Minnesota. I was one of five grandchildren graduating from high school during the coming week, four of us from the same little school, so the family clan was gathering at Grandma & Grandpa's house to fete the scholars. I was looking forward to the gathering about as much as I would a dental filling without novocaine.
That little town wasn't big enough for me. I knew it… and what's more, they knew it. I was heading off to MIT in the fall, leaving behind rural Minnesota and all the parochial nonsense of small town life. Like a baby switched at birth, taken from his sophisticated, urbane parents – perhaps William Holden and Myrna Loy – and placed to be raised by rubes in the sticks, I was about to be restored to my real cultural heritage. Surely wit and wisdom would follow me all the days of my life.
But first I had to get out of Dodge, which meant a summer of working in the pickle factory. Heavy, dirty work, stinking of vinegar brine… nine and a half hour night shifts… $1.70 an hour… but my ticket out of Hicksville.
All of this was running through my head as I hopped in the family Pontiac to make the three-block journey to my grandparents. In driver's training class we had learned that the first step in preparing to drive was adjusting the mirrors, but I knew better. The first step was adjusting the radio… getting it off WCCO (an old-foggies AM channel that broadcast farm reports to five states) and onto my rock-n-roll channel. The second step was adjusting the volume to a level just below eardrum-bleed.
As I rolled away from the curb, I heard the words "It was twenty years ago today…" roll from the speakers. A half-block short of my destination, I pulled to the curb. I knew I was hearing something special. The station was playing the whole first side of the new Beatles album, uninterrupted. I sat, mesmerized by the music.
When people started to question my absence from the party, others reported seeing me sitting in our parked car in the shade next to the funeral home. My little sister was dispatched to check out my delay.
I waved her off. She didn't know what to tell my parents. She couldn't tell them, in front of dozens of relatives, that Jimmy was sitting in the car a half-block away laughing and crying and listening to the radio. She just said that I'd be there "in a minute."
It was a transformative moment. Mine had been a life of rules. Strict parents, strict nuns, strict teachers, strict religion – everything was rules, all of them designed to constrict and limit. And here were the Beatles, constricted in their own ways by their fame and success, breaking out. They didn't just break the rules – they threw them away and started over. Sgt. Pepper's Lonely Hearts Club Band spoke to me that day. I wasn't sure what the message was – but I knew it included "Go Go Go!"
I think I was a little reluctanct to add H 'Sergeant Pepper' (note the different spelling) to my collection. Given the profundity of the experience of the music, the hosta almost had to trivialize it. But I did obtain a couple of them – and was surprised to find it one of my favorites.
It becomes a medium-sized clump of subtle yellow-to-chartreuse margin, light-to-medium green centered foliage with good substance and corrugation. It is a Bridgewood release and is not registered. I have been unable to find out anything about its heritage.
When I had to select a mature plant to move into my redesigned planting area next to the stairs into my main gardens, it was Sergeant Pepper I chose as the focal point.
Here are pics of two different SPs, same age… one gets direct sun from 10 AM to 3 PM… the second gets no direct sun, growing much more slowly in heavy, dry shade under mature spruce trees… and please forgive hail damage…
Hosta Registry -
http://www.hostaregistrar.org/detail.php?id=5820&Variety=Sergeant%20Pepper
MyHostas -
http://myhostas.be/db/view/Sergeant+Pepper
Hosta Library -
http://www.hostalibrary.org/s/sergeant.html
Sergeant Pepper in sun…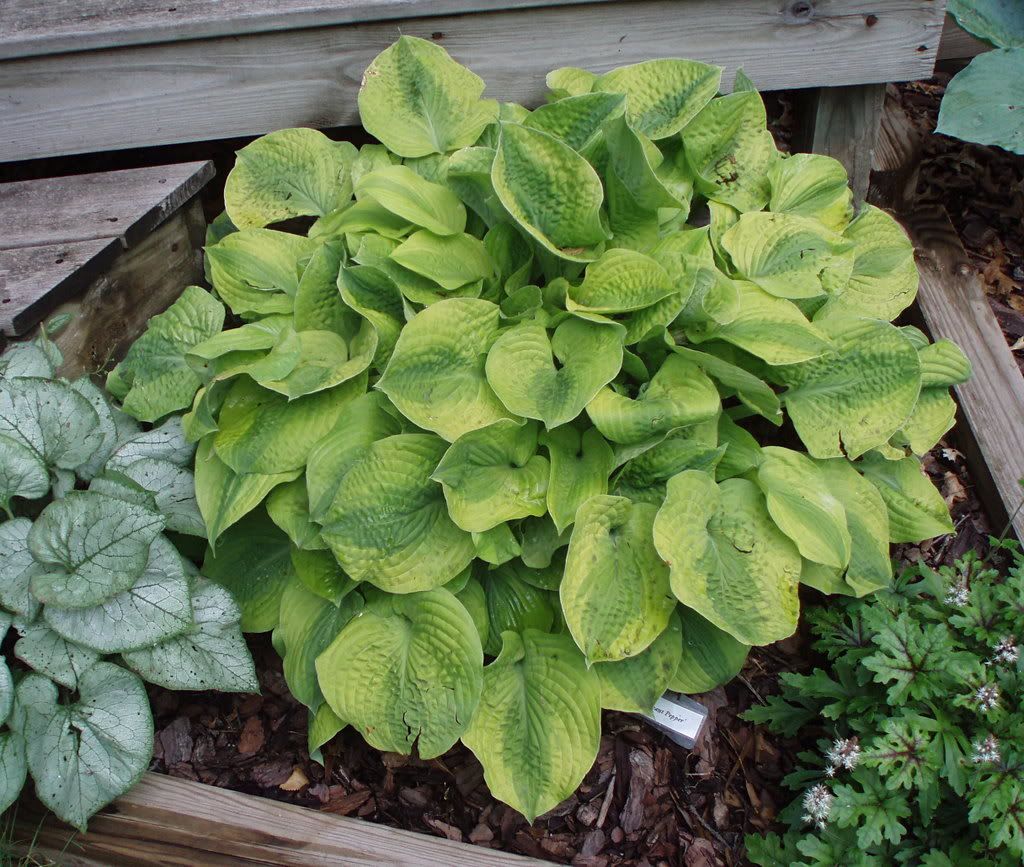 Sergeant Pepper in shade