Here are some photos of my Little Wonder that came from the same pot. The leaves and bloom time look identical except one is MUCH smaller than the other.
The larger one is maybe 6 inches tall with 10" scapes, the smaller one is truly half that size with maybe 4 - 5 inch scapes. The last photo shows the little one next to Popo for a size comparison.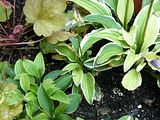 What do you think is going on with these two plants? Are they both Little Wonder and one is just bigger than the other? Is one a sport? If it sported which is the correct size?
Any ideas are appreciated!
Alexa